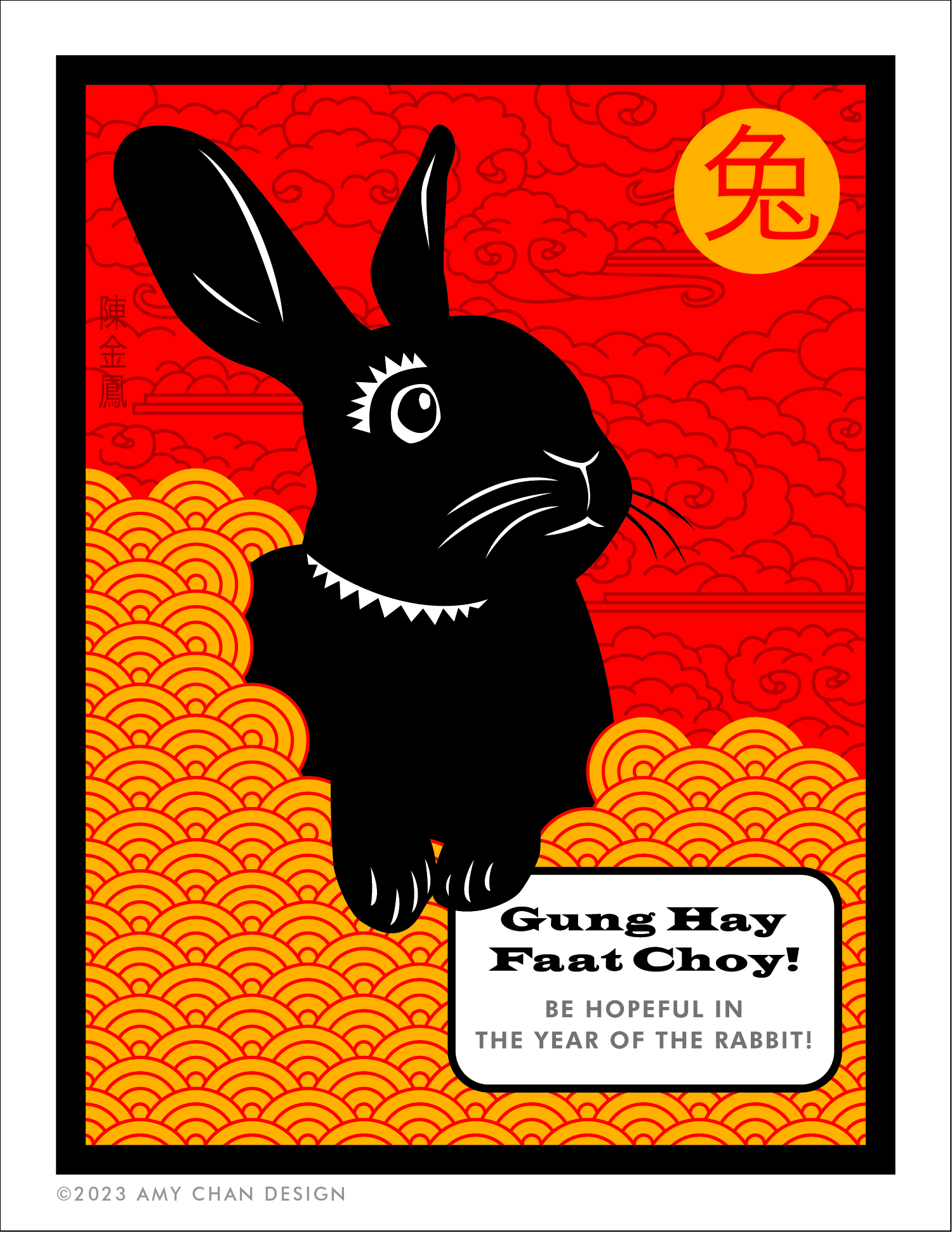 Happy New Year 2023!
The adaptable and elegant Rabbit is characterized as easy-going, kind-hearted, quiet, and polite--though some can show a touch of vanity and selfishness. No one's perfect. As we move out of pandemic mode, let's focus on the kindness and graciousness of the gentle Rabbit. 
Each of the years in the 60-year lunar cycle also has an element associated with it--Fire, Earth, Metal, Water or Wood. This year we celebrate a Water Rabbit, hence the foreground waves. Some Asian legends refer to the Moon Rabbit, or the Rabbit as a companion to Chang'e, goddess of the moon, so here the rabbit gazes upwards towards its lunar home.
In contrast to
the first set of Lunar New Year greetings
, created as horizontal postcards, this series is oriented vertically, on notecards. The traditions of using paper-cut motifs and symbolic Black, lucky Red and prosperous Orange (Gold), continue.
Happy New Year 2022!
Tigers are characterized as natural leaders: adventurous, brave, strong, optimistic, and committed to helping others. After two years of COVID-19-inspired distancing from friends and family, this year's card focuses on the memories and hopes of being together, and celebrating our connections with those who bring us joy and help us find our way forward. 
This design changed from the format of the previous two years, but I wanted to emphasize the relationship between the tigers above all else. And tigers are also known for being arbitrary, so it's an apt year to make a change. 
Happy New Year 2021!
Oxen are characterized as diligent, hard working, and responsible creatures. Like their human counterparts, they can also be stubborn! Easily trained, oxen have historically helped plow farm fields, singly or two-abreast. Here, the gourds used as the secondary (orange) element pay tribute to their contributions.
Happy New Year 2020!
This year is the start of a new lunar cycle. The animals in the Chinese zodiac are (legend has it) based on the order in which they arrived in a race to the Emperor's palace. Along the way, the Rat encountered a river too swift for him to cross. Upon seeing the Ox approach the river, the Rat convinced the Ox to let him ride on his back. Once they crossed the river and approached the Palace, the Rat jumped off the Ox and crossed the finish line first. Thus, the Rat is the first animal in the Chinese zodiac.